Pilots returning from the First World War would introduce Tasmanians to aviation.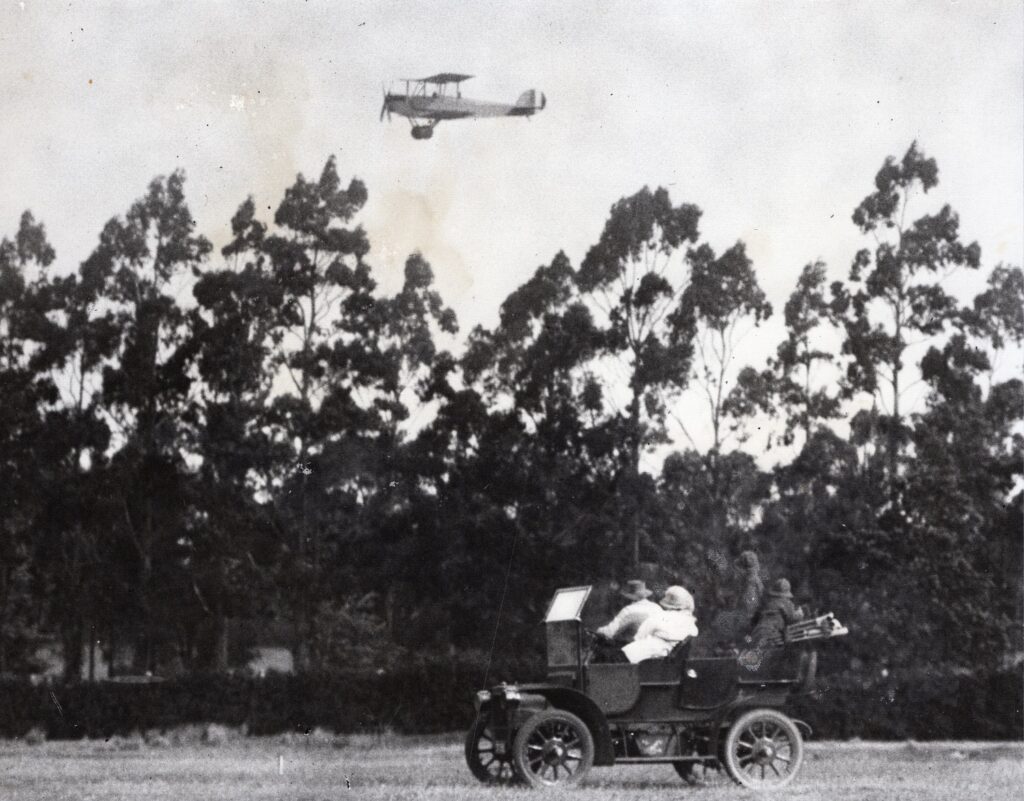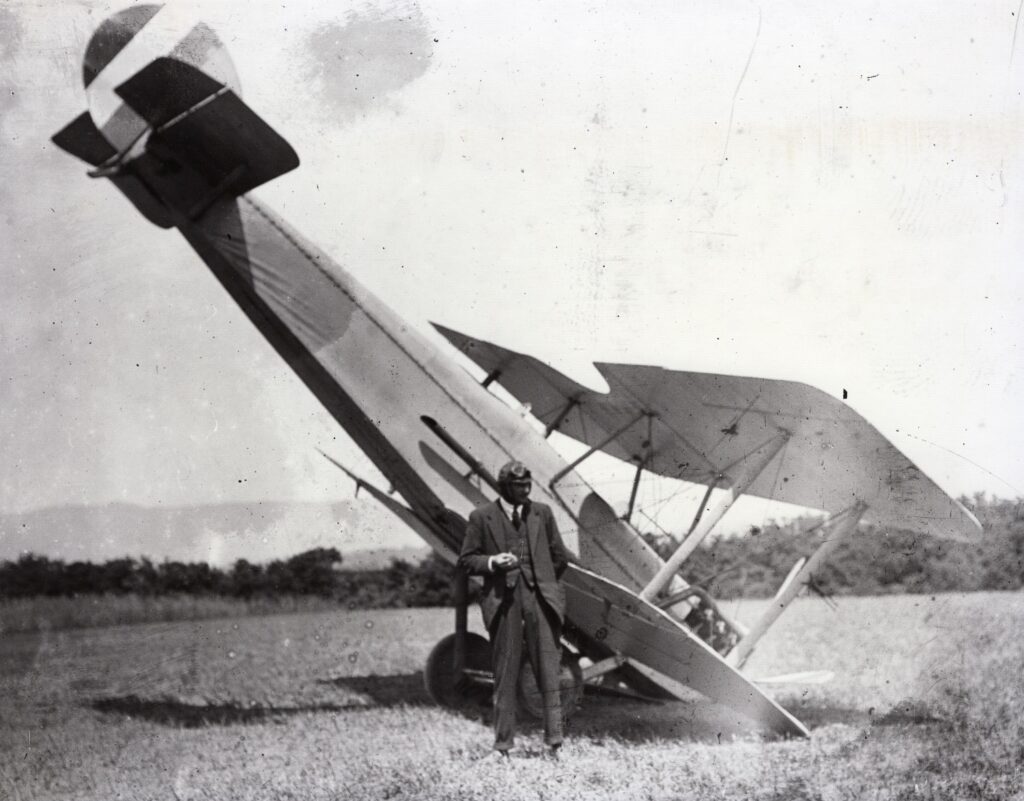 1919  
First Flight from Tasmania to Victoria
The first flight across Bass Strait was by a Tasmanian pilot, Lieutenant Arthur Long, on 17 December 1919.
During the First World War, Arthur Long enlisted in the AIF and served in Egypt and France, before being selected to join the Australian Flying Corps.
When the war ended, he planned to develop an aviation career in Australia. He purchased a new two-seater Boulton Paul P.9 biplane and had it shipped from England to Tasmania.
In September 1919, he was assisting Captain Eric Cummings who was giving aerial exhibitions in a Sopworth Pup biplane in Tasmania. These displays were to promote the Commonwealth Government's first Peace Loan which would help repatriate and settle returned solders. Long flew the plane to Wynyard where the undercarriage was severely damaged when landing on the rough Recreation ground.
To continue the flying exhibitions, Long shipped his Boulton Paul plane to Tasmania.
When the Sopwith Pup was repaired, he and Cummings gave an 'dog fight' exhibition over Hobart in the two planes.
Long then continued undertaking charter flights and offering joyrides throughout the state. Mrs Nelson was the first passenger who paid for a flight from Hobart to Launceston with Long.
In Launceston, he uses a paddock on Mr Freeland's farm on the west Tamar as his aerodrome.
In December 1919, he announces his plans to fly cross Bass Strait. He decides on the western route starting from Stanley as it is slightly shorter that the eastern route over the Furneaux Islands.
He departed Stanley at 6.30 a.m. on 17 December 1919 in the direction of King Island, then changes course to fly directly to the Victorian coast. He made it across and lands at Torquay to the south-west of Melbourne. After refuelling, he continued on to the Port Melbourne landing strip. Overall, the trip took four hours and 10 minutes, with a flight of 3½ hours over Bass Strait.
Long continued his aviation career in Victoria and then became a successful stockbroker in Melbourne.
This 'first' in Bass Strait Aviation was probably the only one that was planned. The others were recognised after they occurred.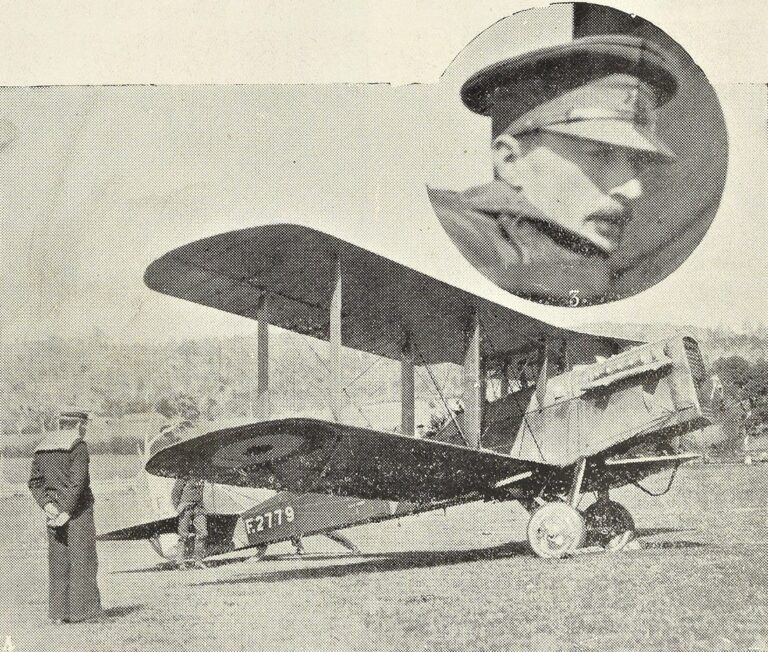 1920
First Aviators Lost Crossing Bass Strait
In searching for a missing ship, a RAAF biplane with two aviators disappears on 24 September 1920.
The second plane to fly across Bass Strait, and the first to fly north-south from Victoria, was not planned, but it was a result of a maritime tragedy.
The Tasmanian wooden schooner Amelia J. had sailed from Newcastle for Hobart on 21 August 1920. She carried a cargo of coal with a crew of 12 for a 7 to 10 day journey. It was never seen again. Nearly a month later, a maritime search of Bass Strait commenced.
Following pressure from the Tasmanian Government, an air search was undertaken by the Australian Air Corp. On 24 September, two ex-First World War DH.9A biplanes aircraft departed Point Cook in Melbourne to fly to Brighton in Southern Tasmania. Their route was over Wilson's Promontory to Flinders Island and then along the east coast of Tasmania, before flying overland to land at Brighton.
Each plane carried the pilot and a mechanic. Captain Anderson piloted one plane and Captain Stutt the second, with his mechanic Sergeant Dalzell. They flew in formation, but lost visual contact when Captain Anderson investigated a shipwreck on Vansittart Island. That was the last sighting of Captain Stutt's plane.
Captain Anderson resumed his flight south, assuming Stutt had gone on ahead. Arriving at Brighton he did not find the second plane. His search was now for his colleagues. He flew north to Launceston where he was based for the next three weeks. He undertook many aerial searches over northern Tasmania and the Bass Strait islands looking for any sign of Captain Stutt and his plane. Land searches were also undertaken when locals reported seeing flares. All to no avail, nothing was ever found.
Captain Anderson and his mechanic fly home to Point Cook without incident on 17 October 1931.
At the time it was believed they were lost in Bass Strait, but later clues suggest they may have crashed near St Helens.
This story has many firsts:
First crossing of Bass Strait from North to South (second across Bass Strait)
First aerial search conducted in Tasmania
First loss of an aircraft in Bass Strait, with loss of 2 lives
First return flight across Bass Strait
First loss of life by the Australian Air Corp (which became the Royal Australian Air Force the following year)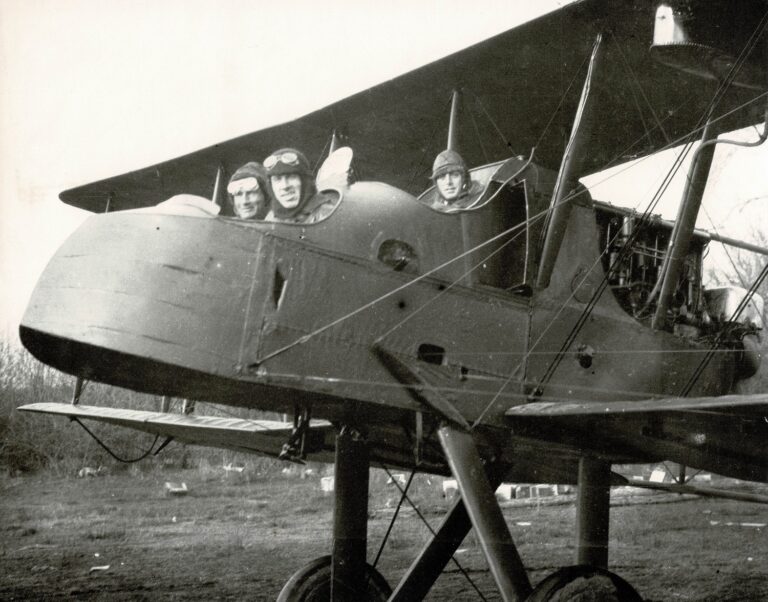 1920  
First Plane to Land on King Island
Two early aviators made the trip from Melbourne to King Island, using the same F.E.2b (Farman Experimental 2) pusher biplane within two months of each other!
The first was Ray Parer on 23 November 1920 and then Fred Huxley on 04 January 1921.
The plane was a F.E.2b (Farman Experimental 2) pusher biplane. The engine and a four bladed propeller were behind the pilot, with seats for two passengers in front.
Both Parer and Huxley were pilots in the First World War.
Ray Parer from Melbourne served in the Royal Air Force. After the war, he and John McIntosh flew from the UK to Australia in a DH.9 biplane. On their epic 8-month flight, they suffered multiple mishaps and crashes.
After finishing the flight in Melbourne in August 1920, he decides to visit is uncle on King Island for a holiday. In the F.E.2b with two friends as passengers, he completed the first flight to King Island. They flew home to Melbourne a week later.
Fred Huxley was born and grew up on from King Island. He served in No 2 Squadron of the Australian Flying Corps. He was the first AFC pilot to shoot down an enemy aircraft.
With Huxley on his flight to King Island were his wife Lily (who was 5 months pregnant) and their 17-month-old baby daughter Freida.
Huxley then flew the plane to the Tasmanian mainland and went 'barnstorming.' He offered short joy flights throughout Tasmania. It would be the first time most Tasmanians had seen a plane or had the opportunity to fly in one. Six months later, after two crashes, he flies the plane back to Victoria.