Passenger services from Western Junction to the Bass Strait Islands started in 1932. The following year, services from Victoria to Tasmania were being operated by three airlines.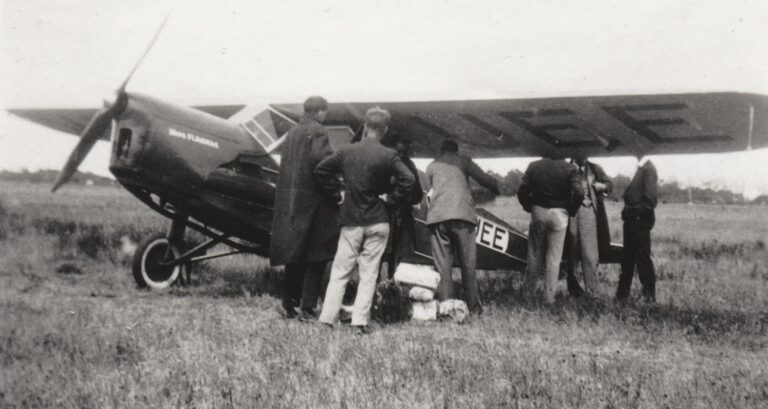 1932  
Passenger Services to Flinders and King Islands
In 1932, Lawrence Johnson and brothers Victor and Ivan Holyman, started operating passenger flights from Western Junction to the new aerodromes on Flinders and King Islands.
Two pilots, Lawrence Johnson and Victor Holyman independently saw the commercial opportunity of providing flights to the Bass Strait Islands.
They both purchased planes starting passenger services to Flinders Island.
Johnson was first on 19 March 1932 in his Desoutter monoplane, VH-UEE, named Miss Flinders, which could carry two passengers.
This was Tasmania's first commercial aviation service.
The Holyman Brothers first flew to Flinders Island on 30 September 1932 with their de Havilland DH.83 Fox Moth, VH-UQM, named Miss Currie, which could carry three passengers.
In October 1932 Johnson and the Holyman Brothers merged to form Tasmanian Aerial Services.
On 24 December 1932, Victor Holyman flew Miss Currie with two passengers to inaugurate the first passenger service to King Island.
1932  
Miss Flinders
The Desoutter monoplane VH-UEE Miss Flinders was built in England in August 1930. It was originally flown in Ireland, then purchased by two Melbourne Businessmen and flown to Australia.
It was then purchased by Lawrence Johnson in 1932 and flown in Tasmania for three years.
After many owners on the mainland, it was restored and put on display at Launceston Airport. 
Learn more about this remarkable plane at the TAHS website.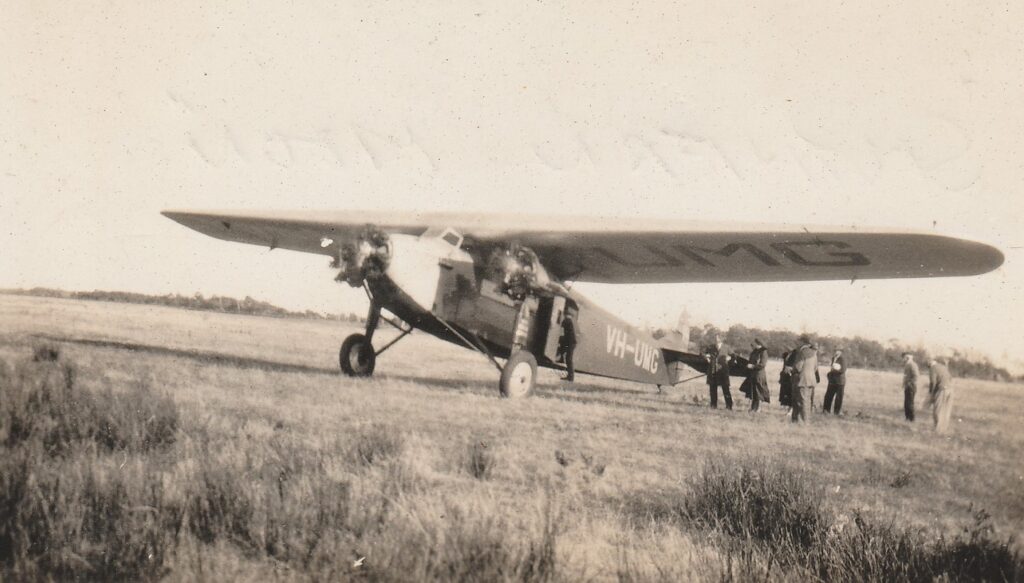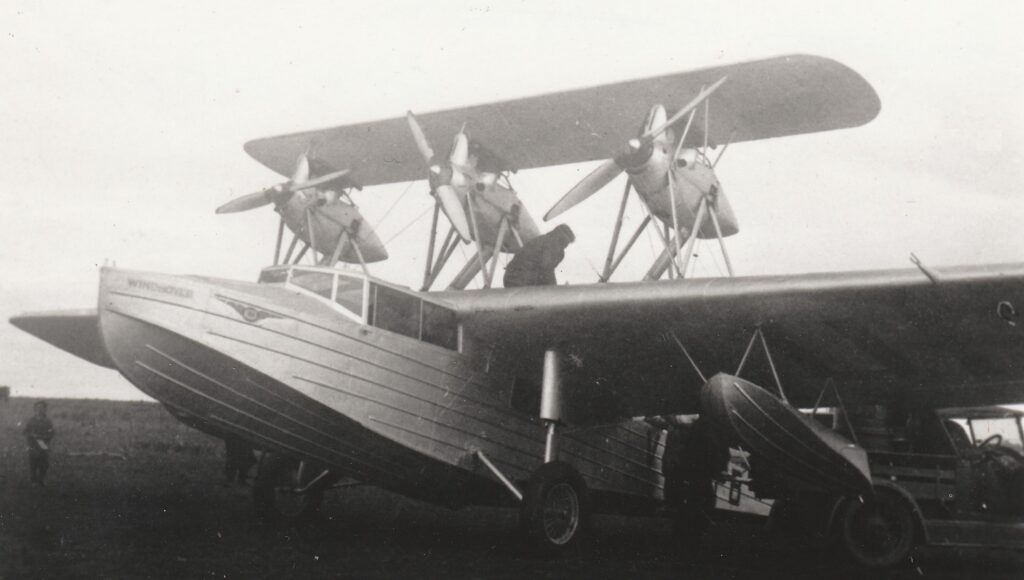 1933 – 1934  
Resumption of Interstate Passenger Services
Three different airlines started passenger services between Melbourne and Launceston in 1933.
After A.N.A. ceased flying across Bass Strait in mid-1931. Tasmania waited until 1933 before three operators would again offer passenger services between Melbourne and Launceston.
The first was Matthews Aviation from Melbourne with their Saro Windhover, VH-UPB, which carried five passengers. Their route was via King Island and Smithton. Norman Chapman piloted the Windhover, becoming the first pilot to cross Bass Strait 100 times.
The next was Hart Aircraft Services from Melbourne, with one of the old A.N.A. 10-seater planes, VH-UMG they named the Tasman. Their route was via Flinders Island with pilot Jack Turner. Charles Kingsford Smith was guest pilot of the Tasman on 12 May 1933.
The last to start in September 1933 was Tasmanian Aerial Services with a new de Havilland DH.84 Dragon, named Miss Launceston, VH-URD, which carried 6 passengers. Their route alternated between King Island and Flinders Island. Both Lawrence Johnson and Victor Holyman piloted Miss Launceston on the route. Lawrence Johnson was the second pilot to fly Bass Strait 100 times.
In early 1934, both Matthews Aviation and Hart Aircraft Services ceased their services after their planes developed mechanical problems. This left Miss Launceston as the only passenger plane flying across Bass Strait.
1933 – 1934  
Mishaps Landing on Flinders Island
Both the Tasman and Miss Launceston suffered mishaps when landing at Whitemark in rough weather.
While landing the Tasman to collect passengers on 21 December 1933, the empty plane was caught in a strong gust of wind. It ended up on its nose and the nose and smashing the propeller. Pilot Jack Turner was unhurt.
Miss Launceston also suffered a mishap when landing on a very wet strip in gale force winds on 9 November 1934.
Carrying a full load of six passengers, one wing hit the ground, breaking it. The plane was then thrown onto the other wing, which also broke. The undercarriage then collapsed, and the machine stood on its nose. It then fell backwards and turned completely around, before coming to rest about 40 metres from the spot where it first touched down. Miraculously no one was injured.
The plane was dismantled and shipped back to Western Junction for repair. It re-entered service a month later.
These mishaps highlight one of the reoccurring problems with early aviation in Tasmania. All the landing strips were grass. In wet conditions, the wheels and tail skids created significant damage. Often, they would be closed during wet periods. Most aerodromes were not upgraded until after the Second World War.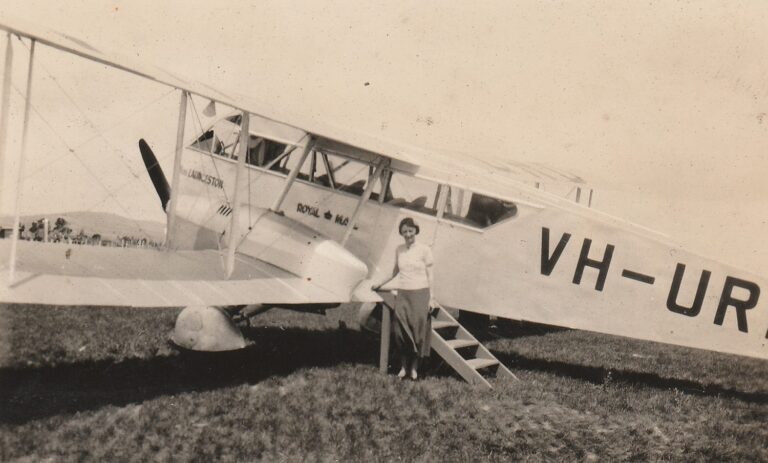 1933  
Mishaps at Sea
Matthews Aviation flew two amphibians across Bass Strait from 1933 to 1936. They were flying boats which also had landing wheels for aerodromes. The Cutty Sark with two engines carried four passengers and the three engined Windhover carried six.
The advantage these planes had over land planes was they could land in the sea in an emergency. Both planes suffered forced landings in Bass Strait on the same day, 26 January 1933, a day of very rough weather in Bass Strait.
The Cutty Sark, piloted by Norman Chapman was flying from Melbourne to Flinders Island with two passengers (one of whom was Nancy Lyle, who later would be the first lady to pilot a plane across Bass Strait). Due to the weather, Chapman decided to abandon the flight and divert to the Wilson's Promontory landing strip. When he could not locate the strip, he sighted a steamship which was waiting for better weather to land at the lighthouse. Fearing for the safety of the passengers, he landed on the sea near the steamer in the rough seas. The passengers were then transferred to the ship. Chapman then flew the plane and managed to land in Gippsland.
The tri-engined Windhover, piloted by Frank Neale was flying from King Island to Melbourne with five passengers. When one engine cut out, Neale was forced to land the plane landed in the sea. The second engine failed and the plane taxied the 40 kilometres to a beach near Lorne on one engine. To keep the plane upright, the passengers crawled into its tail. The passengers suffered cramp and seasickness.
1933 – 1934 
Airmail Contract
To ensure a regular airmail service across Bass Strait, the Commonwealth Government would provide a subsidy to carry the mail on passenger planes for 5 years. They put the air mail contract out for tender, with operators asked to submit tenders detailing the number of services per week they would operate and the cost.
Matthews Aviation, Hart Aircraft Services and Tasmanian Aerial Services all submitted tenders.
Tasmanian Aerial Services won the tender proposing six crossings per week. Their tender was half the cost of those from the other two companies and the subsidy paid equated to about an extra passenger booked on each plane. The new service would commence in late 1934 when the new aircraft purchased for the service arrived.