From 1931, flights to Flinders Island commenced and aerodromes were developed throughout the the state.

1931  
First Plane to Land on Flinders Island
The first plane to land on Flinders Island was a Gipsy Moth, VH-UKG, flown by Norman Chapman. He landed in a paddock near Whitemark on 1 September 1931 to offer joy rides to the Islanders.
Chapman grew up in Hobart. After finishing school, he entered the merchant navy, gaining a Master Mariner Certificate. He learnt to fly in 1926 with the Victorian Section of Australian Aero Club.
Chapman flew plane, which he named Viking, across Bass Strait to Tasmania in March 1931. He then toured the state, including Queenstown offering joy flights and undertook pilot training. The return trip to Melbourne was via Flinders Island.
They planned to return to Melbourne via Flinders Island, conduct some flights for a few days on the way. Their flight from Bridport to Whitemark was abandoned at Swan Island lighthouse due to the bad weather. They landed on the beach, then flew to Whitemark the next day (1 September 1931), landing in a paddock. Their visit was unannounced and took the locals by surprise.
After undertaking some passenger flights at Whitemark, the plane crashed after suffering an engine fault. A new propeller was shipped from Melbourne enabling the plane to fly back to Melbourne.
Chapman landed on Deal Island on his flight back to Melbourne.
When the plane was repaired, Chapman then flew it to Melbourne on 17 October 1931, landing on Deal Island on way.
After this he flew for Matthews Aviation in 1932 – 1934, including on their Bass Strait service. He was the first pilot to fly Bass Strait 100 times.  When these services were halted in 1934, he joined Qantas in August 1934. Shortly afterwards, on 3 October 1935, the Qantas DH-50J Atalanta he was piloting crashed between Longreach and Winton. Chapman and his two passengers were killed.
1931  
First Passenger Flight to Land on Flinders Island
The first passenger to be flown to Flinders Island was Mr Thompson. He had chartered a Desoutter monoplane, VH-UPR, for the flight from Melbourne on 28 December 1931.
Mr Thompson chartered the Desoutter monoplane, VH-UPR, from Hart Aviation Services with pilot Jack Turner.
Turner then flew Mr & Mrs Jas. Woods, residents of Flinders Island, to Western Junction on the same day. They were the first passengers to fly from Flinders Island to Launceston.
Four days later, Jack Turner flew back to Flinders Island, collected Mr Thompson and continued on to Essendon. This was the first passenger flight from Flinders Island to Melbourne.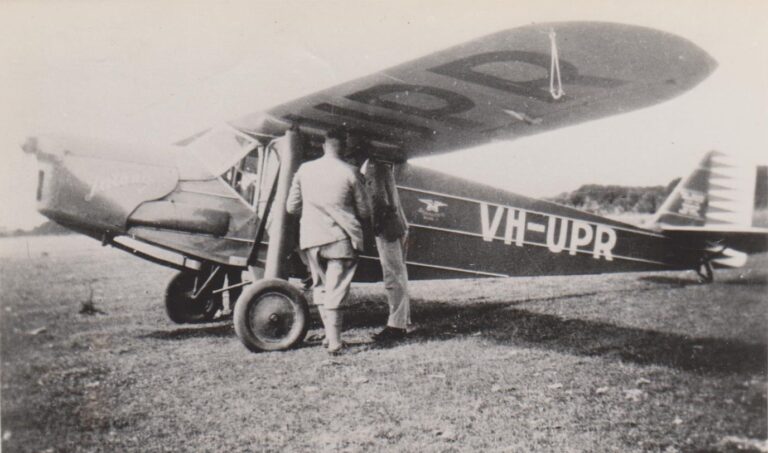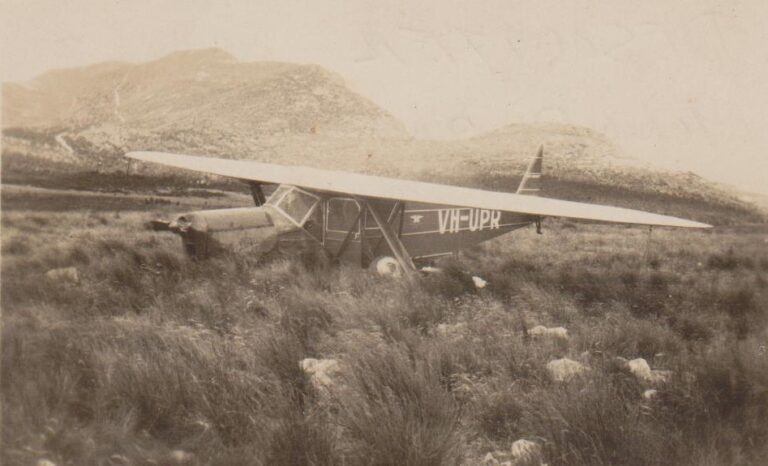 1933  
First Crash Landing on Deal Island
On a later flight from Flinders Island to Melbourne, VH-UPR developed engine trouble and crash landed on Deal Island on 14 January 1933.
The following year, Mr Thompson again hired the Desoutter (VH-UPR) with Jack Turner as pilot. They flew from Melbourne to Flinders Island on 07 January 1933.
On the return trip a week later, they planned to fly from Flinders Island over the Kent group of islands to Wilson's Promontory and then to Melbourne. The plane developed engine trouble and they were forced to land on Deal Island. As there was no prepared landing strip, the landing severely damaged the undercarriage of the plane. The pilot and passenger were unharmed.
With the help of the lighthouse keeper, they alerted Melbourne and were picked up by fishing boat three days later and returned to Victoria.
The plane was retrieved after a few months and shipped back to Melbourne and repaired.
The Desoutter (VH-UPR) survives to this day, it is currently on display at the Moorabbin Air Museum in Melbourne. (It is the same model plane as Miss Flinders).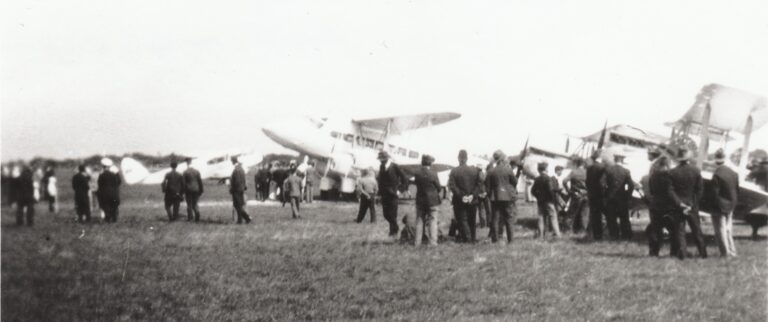 1932 – 1935  
Bass Strait Island Aerodromes
Aerodromes were completed in 1932 on both Flinders and King Islands.
The Flinders Island Municipal Council has operated two aerodromes on the island.
The first was at the 'Happy Valley' farm south-east of Whitemark on land owned by Mr A. G. Woodside, which was used from March 1932. in time for Miss Flinders to commence the first passenger service with Launceston in March 1932
In mid-1933, the Council decided to develop a bigger aerodrome on land they purchased at Pats River in Whitemark. During 1934, work progressed to clear the land and sow the grass landing strip. Holyman's Airways erected a rest house on the eastern boundary of the aerodrome.
This is the current Flinders Island Airport, which is still owned and operated by the Flinders Council today.
The first plane to land at the new aerodrome was Miss Currie, operating the regular Holyman's Airways Launceston to Flinders Island passenger service on 18 December 1934. The aerodrome was officially opened on Saturday 16th February 1935.
The King Island Municipal Council developed an aerodrome northeast of Currie, which was first used on Christmas Eve 1932 by Miss Currie. This is the current King Island Airport.
The opening of the aerodrome was on Saturday 2 December 1933. Unfortunately, due to a bad storm, the official party from Tasmania including the State Governor could not fly in for the opening.
The aerodrome needed to be extended late 1933 and continued through 1934. The landing surface was extended, and drains were installed to remove water. The aerodrome was licenced by Civil Aviation in November 1934 for all types of planes
Aerodromes were also developed along the North West coast of Tasmania at Latrobe, Wynyard, and Smithton by the local municipalities.
The First Joyrides on Flinders Island
The arrival of Norman Chapman in his plane Viking was recorded in the memoires of Iola Fowler (nee Wood).
The first plane to land on Flinders Island was on the 9th of September 1931.
It was an interesting day for us (Iola Fowler nee Wood) when we were told a plane had landed in a paddock near the road in the vicinity of the Whitemark school. Soon afterwards Mr Reg Cooper phoned us to say that a plane had landed in his paddock and was making short joy flights for 10 shillings a time.
The plane was a VH UKG De Havilland, single engine biplane with a seat for one person behind the pilot's seat. The pilot was Norman Chapman and he had flown the plane from Greens Beach Tasmania that morning, noting the islands enroute for a possible landing should it every be necessary to make a forced landing.
My father, Jim Woods, drove us out to the Coopers paddock where a couple of people had already been up for a fly and Geoff Cooper was just going up as we arrived. After circling around the nearby hills, the plane headed towards Wybalena but as they didn't return after a reasonable time the men set off in their vehicle hoping to locate them. The engine had cut out in flight and Norman had landed safely in a paddock close to the Cemetery.
Despite many efforts the engine could not be restarted so in the end father brought Norman home to our house for the night.
Next day the weather had turned bad and lasted for a few days but when it cleared my sister Edie, and I went to see Norman take off but just as he was lifting off, he became away that something wasn't right and had to look for somewhere to crash land. We tried to signal to him to go to Little Plain but in the end, he landed on a very steep slope in our hill paddock. The plane turned upside down and we hurried to his assistance and helped to lift the plane so he could crawl out.
The propellor of the plane was broken and we could see that a lot of the flimsy plywood and canvas was damaged. Norman telegrammed Melbourne for a new propellor but due to bad weather and the boat to Flinders only coming every 3 weeks there was a long delay.
In the meantime, I accompanied Norman in his search to find any light pieces of wood from the beaches which he used to rivet and glue into the broken areas of his plane.
Soon after the new propellor arrived and was fixed another disaster took place. Edie, while milking the cow heard a ripping noise and looked up the hill to see our bull attacking the plane! It was found that a lower string was ripped badly. This was luckily replaced by the pilot of one of two seaplanes which had landed at Lady Barron. He also gave Norman some mending paper so after a lot of stitching together with a packing needle and plenty of glue the plane soon appeared to be once again in good repair.
Norman said he could now take me up for a fly but after all that had happened to the plane, I didn't feel altogether confident but thought if the pilot said it was alright it must be so, so away we went towards what is now known as Memana and back along the Marshall Bay. When we were preparing to land in a small paddock on the side of the road opposite the war memorial at Emita, I wondered why we were losing altitude so quickly and heading for a wire fence. I called out to Norman "Do you know there is a fence in front of you?" The plane was by then very low, and he replied, "We damn soon will". I took a grip of the seat thinking that it may save my head when the plane crashed into the fence, but the plane managed to just lift enough to clear the fence and land safely.
It was now late in the afternoon but Norman decided to fly the plane back to Whitemark and land in the same paddock as he did when he first arrived. I phoned Henry Bryant at his garage and he went out and helped signal Norman to a safe landing in the rough, stumpy paddock.
The next morning, he flew to Launceston Airport where he had some repairs done and later returned to Bass Strait flying over Emita and circling our house on his way to the Inner Sister islands but he was not as welcome there as expected as his plane frightened the sheep. So instead, he went on to Deal Island and landed there in the thick tussocks.
The weather prevented the plane from taking off for several days, but Norman was made welcome by the lighthouse keeper. We knew where he was as we could listen in on our Ericson phone at 6.00 pm and hear the lighthouse keeper speaking to everyone and so where able to let the wireless station know when Norman's wife mad enquiries about his whereabouts.
It was a very unsafe little plane that finally arrived at Essendon from Deal Island.
The broken propellor from the Viking is now on display at the Furneaux Museum.
Note there are two details in her recollections which are inconsistent with the newspaper reports of the time. The date Norman arrived was 01 September 1931 and he had flown from Bridport via Swan Island.
Aerodrome Timeline 1929 -1939
Bridport
Emergency landing ground at Barnbougle.
Licenced in 1930.
Brighton
Licenced in 1931 for Aero Club activities and then Australian National Airways flights.
First passenger plane to land was Charles Kingsford Smith in Southern Star, VH-UMG on 24 January 1931
Superseded by the Cambridge Aerodrome in 1935
Cambridge / Hobart
Land purchased by Commonwealth Government in 1934
Official opening and the first large plane to land was DH.86 Loina (VH-URT) on 28 September 1935
Flinders Island
Happy Valley Aerodrome
First heavy plane to land was by Lawrence Johnson, Airco DH.4 of Matthews Aviation (VH-UBZ) on 29 January 1932
Pats River Aerodrome
Land purchased by Flinders Island Council in September 1933
First plane to land was by Ken Frewin, Miss Currie, VH-UQM on 11 December 1934.
Official opening on 16 February 1935
King Island
First plane to land was Captain Victor Holyman, Miss Currie, on 24 December 1932
Official opening on 02 December 1933
Latrobe
First plane to land was by Captain Joseph Francis, Gipsy Moth of Australian Aero Club (Tasmanian Section) on 28 October 1931.
Official opening on 27 December 1931
Smithton
First plane to land was Flight-Lieut. Wilson, RAAF Westland Wapiti on 27 February 1932
Official opening on 17 February 1933
Western Junction / Launceston
Land purchased by Commonwealth Government in 1929
First flight off the aerodrome by Captain Joseph Francis, Gipsy Moth VH-ULM of Australian Aero Club (Tasmanian Section) on 23 November 1930
Official opening on 28 February 1931
Wynyard
First Aerodrome at Racecourse
First plane to land was by Captain Joseph Francis, Gipsy Moth VH-ULM of Australian Aero Club (Tasmanian Section) on 25 February 1932
Current Aerodrome
Official opening on 26 February 1934
Umbrella Flats
Emergency landing ground when Western Junction could not be used, e.g. when it was covered in cloud
First used by A.N.A. DH.89 Memma on 28 May 1937